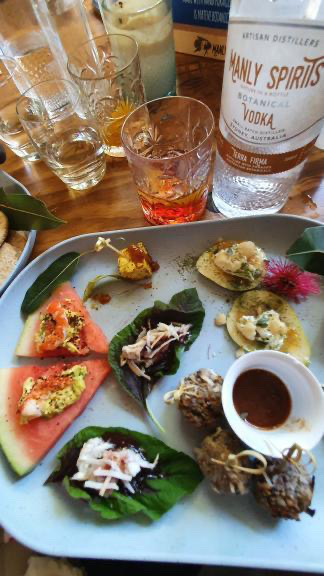 G'day mate it's almost time for my favourite celebration of the year-Straya day!
What I most love about the day is that it's like no other celebration. We spend the day with whom and how we choose. 
Gone are the compelling traditions and obligations of family as with the festivities of Christmas. There's no pressure to kiss ( or not kiss these days) at midnight, as with New Year's Eve.
We don't turn a year older as with birthdays. We don't gorge ourselves on tonnes of chocolate & have to pray that we'll fit into our clothes again once Easter is over. We don't question who we are as with the Queen's birthday.
It's just pure backyard fun and games, doing what we love with those we love.
Last Sunday, in advance of the nation's tribute to Australia, I was doing what I love with like-minded native creatives. We dished up 'you beaut eats' at one of the top-rated Distilleries in Sydney. www.manlyspirits.com.au . Bad as a Ute load of bush rangers, Zing dished up 'you beaut' eats and my mates poured some bad ass cocktails.
introducing menu ingredients; like Davidsons plumb, finger lime and native hibiscus (just to name a few), like Ned Kelly: we killed it! Curious explorers slopped on their thongs, slapped on their fat pants and slipped in for some great grub or grog.
For those of you who couldn't make it, here are some recipes so that you can wow your mates on the day with some ripper things to serve with your snags. 
My arty farty party food recipes are easy peasy so that you don't miss out on all the fun!! Don't get too caught up in exact measurements either – that's a sure-fire way to take the rogue out of it. My creations can handle a lot of flexibility & improv. so enjoy yourself on your delicious expedition of native oz adventure.
– Nashi pear discs smeared with wild lime marmalade, goats' cheese, myrtle & macadamia nut sprinkle
Slice pear into 0.5 cm rounds such that you cut progressively from top to bottom or reverse (ie: don't cut from the sides of the core). Smear 1 tablespoon of marmalade onto the disc. Splodge 1 tablsespoon of soft goat or feta cheese atop marmalade. Sprinkle with a slight spray of ground lemon myrtle or garnish with 1 lemon myrtle leaf. Final layer with a shower of (toasted/raw/salted or unsalted- you choose) crushed yet chunkyish macadamia nuts. 
– Watermelon wedges w. avocado, prawn, wattleseed & finger lime
Slice watermelon into 1 cm thick triangles that are 2-4 bites worth & easy to mouth manage, once capped with toppings. Smear soft avo onto each slice, leaving avo free edges on all sides for clean and easy handling. Place one whole shelled cooked prawn over avo & sprinkle with ¼ teaspoon wattleseeds & ¼ teaspoon finger lime caviar. Serve with fresh lime wedge (or finger lime for whoop whoop fancier)  for guests to squeeze over for extra flavour Zing. Yep, that's it!!
– Lemon myrtle hummus
If wanting to join the party faster then use tinned chickpeas but I prefer the full flavour of dried chickpeas. It's worth the soak! 
2 cups cooked chick peas
½-3/4 cup macadamia (or olive) oil
¼ cup hulled or unhulled (slightly more nutritious/darker) tahini
2 teaspoons crushed garlic
3 tablespoons lemon juice
½ teaspoon salt
½ teaspoon lemon myrtle (leaves or ground or essence) remember a little myrtle goes a long way… like a turtle!
Throw everything into your preferred blitzer (nutribullet, food processor, thermomix….). If you like a really smooth dip then blitz on the highest setting until all is evenly combined. I prefer texture so I undershoot the maximum setting by a few notches to retain some coarseness throughout the mix. 
Dip tip: if ever needing to thin out the mixture for runnier consistency, just add a spoonful of water at a time until you are happy with it.(Ideally use some reserved water that the chickpeas were cooked in). What next? Garnish with a drizzle of olive oil. Why not macadamia oil though since we're celebrating Australian produce?! Garnish &/or serve with bush dukkah, crunchy crackers, crudites &/or  spreadable damper for your hamper.